Advantages of Obedience Training
When you bring home a new puppy or dog, especially if you are a first time dog owner, it's a good idea to sign up for obedience classes.
It's important that your dog has good manners. That means he or she needs to learn some basic commands: sit, stay, come, down, and others. By teaching your dog these commands, you should have more control over him or her during social situations.
When attending obedience classes, you will have a good opportunity to begin developing the appropriate roles for you and your dog. You love your canine companion, but that doesn't mean you shouldn't let him or her know who is in charge in the relationship. After all, you love your children but you let them know you are in charge.
Another reason to consider obedience classes is the socialization you can achieve. Most obedience classes involve group classes. This gives the pet an opportunity for socializing in a controlled environment and also gives you a chance to practice the commands when a lot of distractions are present.
In some cases, obedience trainers may be able to offer some strategic suggestions for dealing with common puppy or dog behavior problems, such as barking or chewing.
Don't rely on the obedience classes alone
While an obedience program can help you learn useful commands to use with your dog, a lot of people who complete these training programs get lazy after finishing them. They don't consistently use those commands once training is finished. Without following through, the training is useless.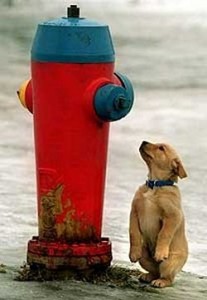 You need to make sure you continue working with the commands on an ongoing basis... 5 to 15 minutes a day is all it takes to really drive home those commands.
Keep in mind that sometimes obedience programs don't allow the dogs to learn at their own pace. While most dogs can pick up on commands relatively quickly, some commands or tricks may take longer to learn for some dogs than others. For example, some dogs are very resistant to the "Come" command while others have no trouble mastering it in a short time. So if your dog doesn't pick up on something immediately, make sure you practice that particular command often until they learn what they need to know. Once the obedience classes are over, keep training on your own, you can work at your dog's pace and can save both of you a lot of frustration.
If you decide to use obedience program, research what kind of training that particular group uses. They are not all created equal. You also want to make sure the program provides socialization time. Even though this is one of the best reasons to go through an obedience program, not all of the providers offer this option. Always ask before you sign up. Keep searching until you find one that truly serves your needs.
Always remember that your dog loves to learn, and one you learn how to teach him something, it will be a breeze to teach him anything you want. You will have fun together and a wonderfully behaved dog!