When you have a child, you have a responsibility to introduce him or her to a wide range of people and experiences to better prepare them for the world. The same is true when you have a puppy or a dog. This process is known as socialization. Let's look at some of the reasons why this process is so important and how you can be sure to properly socialize your canine companion.
Good Reasons to Socialize
If you've seen aggressive dogs before, you've also seen the consequences of poor socialization. When dogs haven't been introduced to these new experiences, they become fearful and anxious when encountering them. Just think of how you felt on the very first day you ever worked at a job or the first day you went to school.
Socialization, therefore, helps make dogs more comfortable when they have these experiences, such as meeting a new dog at the pet store or being petted by children or riding in the car. Positive early experiences are the best way to prevent future anxiety and aggression problems in your dog.
Another good thing about socialization is it helps you meet new people and have new experiences. Taking your dog to the park, for example, is a great way to start up conversations with people if you are normally a shy person.
Methods of Socialization
Obviously, the best time to start is when the puppy is very young. Take him or her with you whenever you can, and let people approach and pet him. Take him to the puppy education classes of your local pet shop where he will interact with other puppies. Take him to the small dog area of your local dog park. See how he reacts, how he acts, and get to know him well.
If you adopted an adult dog, hopefully he will have been exposed to other people and dogs in positive situations, but you still have to see for yourself how he reacts around people and animals.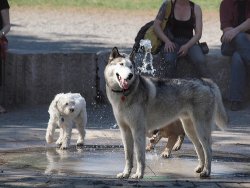 The most important part of the socialization process is the positive experience. If you take your dog to the dog park for the first time and the experience is horrible, she is going to be more reluctant to return the second time. She may be fearful or anxious which could lead to another bad experience. Before you know it, the dog park is off limits. You obviously don't want that to happen.
So, take her at a time when there are not a lot of dogs around. Don't bring her in with the leash on. By now you should know how she reacts to other dogs she might have encountered on her walks. If she tends to be aggressive, you might need to do some training before exposing her to a large dog park. How can you guarantee a positive experience? Remove your own fear and nervousness about the situation. If you're nervous, your dog will be, too. Always be positive and assume that the experience is going to go well.
Another way to do it is taking him to the pet shop, where she or he will probably encounter other dogs. When you go to the pet store, keep your dog on leash at all times (and do not use extensible leashes) and pay attention to his or her behavior. A dog that starts acting nervous or becomes very alert needs to be corrected immediately.
If your dog becomes nervous under certain circumstances, it's a good idea to calmly make him or her confront what is causing the nervousness... unless it is a real threat. If you're walking your dog on the sidewalk and a city bus drives by and startles your dog, the next time a bus comes, make him sit instead of letting him hide from it. Have him sit until the bus passes and then praise him like crazy.  Now, if an unleashed, threatening dog were approaching you, this would require a different tactic and would not be the best time to confront the problem.
The important thing is to have your dog encounter as many new experiences and people as possible. Walk him or her in different locations: your neighborhood, the park, the river, around shopping areas that permit dogs, near roads, around noisy areas, and around quiet areas. You also want your dog to interact with other animals and people, including people of all types and ages. Make sure your dog is also socialized to lots of experiences, including riding in the car, having his feet touched, being groomed, getting a bath, being petted, and more.
The bottom line is that thorough socialization does take time and commitment from you, but the results are well worth the effort.
Dogs of all ages need exercise. Nothing can replace a good walk with a human companion, but all dogs really want a chance to run and really stretch their legs. If they can enjoy the camaraderie of other canines at the same time, that's even better. And that's why dog parks are such a great place for your pets.
Let's look at some of the good reasons to use your local dog park, as well as a few precautions you should be taking, too.
Socialization Galore
If you're fortunate enough to have a popular dog park in your community, this can be a great source of socialization for your dog. Dogs need to have as many interactions as possible with other dogs and with humans so they will feel comfortable in lots of different situations. A well-socialized dog is less likely to be anxious, nervous, or aggressive. Because a dog park is full of people and pets, socialization is almost guaranteed.
Fun for Dogs of All Types
Dogs love to walk and explore their environment, but they may not always like having to be leashed in the process. Even if you have a big fenced in yard where your dog can run safely unleashed, if he or she doesn't have a buddy to chase around the fun may be limited. At the dog park, dogs can do their own thing off-leash. Older dogs might just want to find a shady spot under a tree. Active dogs may want to play as a pack. Some dogs may want to play fetch with their human companions.
If you've never seen the pure look of happiness on the face of a dog running off-leash, you need to head to the nearest dog park and see it for yourself.
Healthy Exercise
Another benefit is the exercise for your dog. Dogs who don't get enough exercise are prone to obesity, arthritis, and other serious health problems. Plus, they are more difficult to live with because all of the pent up energy is going to emerge as destructive, unwanted behavior in your home.
While walking your dog is good exercise for both of you, the dog park is going to give your dog a chance to really get a workout and drain that energy. Regular visits to the dog park will make a huge difference in even the feistiest dog.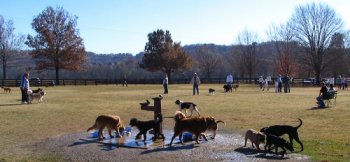 A Few Precautions
Dog parks clearly have a lot of benefits, but you do need to take some precautions for your pet's protection and your own.
1. Separate Small and Large Dogs – Most dog parks have separate areas so small dogs can enjoy themselves safely. Large dogs, even the friendly ones, can accidentally injure a small dog. Obey the rules on separation by size, and if your particular park does not offer that option, start campaigning in order to have the city establish it.
2. Look Around - Always keep an eye out for dog fights, which will undoubtedly happen once in a while. If you know the park well, be aware of new dogs coming into the park and their general demeanor.
3. Keep Your Dog Under Vocal Control – Even though the dog park is a place where humans can mingle, too, you don't want to become so distracted in your conversation that you can't pay attention to what your dog is doing. Most dog parks do have rules requiring you to have vocal control over your dog at all times.
4. Keep Your Eyes Open - The dog park will give you a chance to socialize with other dog owners, however, always keep your dog in sight. Be aware of other dogs getting aggressive, or even of what he get's into his mouth. One of the ways to keep the parks pleasant, is for the owners to always pick up after their dogs. Don't be so distracted that you don't see when your dog does its business.
5. Bring Water – Although some dog parks do have the ability to provide water for the dogs through a fountain, most do not. Always bring along water for your dogs because the can easily get overheated when they're playing in the warm sunshine. In the summer, you might find the best times to play are in the morning and in the evening before sunset.
6. Protect Yourself – Getting to know your fellow dog lovers is a great idea but you have to be careful. Just because someone owns a dog that doesn't mean they are a wonderful person. Be careful about how much personal information you reveal about yourself. Do not leave your purse or wallet visible in the car while you are inside the park. Would be thief knows you'll be distracted and will take advantage of the fact.
Most importantly, use this play time to bond with your dog. Don't just get there and ignore him or her the rest of the time. Nothing will make your dog happier, than having the chance to play with you.