What Makes Our Pets Itch
How awful it is when you get an itch in your back and you can't get to it!  Well, once in a while your dog or your cat needs to scratch an itch, and we have to investigate the reason why it is happening.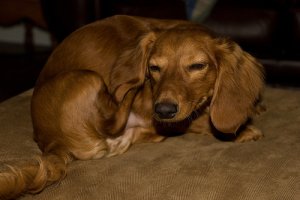 What makes our pets itch? What causes itching skin on our dogs? An itch is a reaction to chemicals in the animal's skin that makes him or her really want to scratch, and if you see your dog constantly scratching, it's wise to find out what's causing it. The itch can be triggered by anything from fleas and ticks, dry skin, allergies, bacterial infections, and even a serious disease, so it's a good idea to look into it with the help of your vet. He or she will examine the pet and decide if more diagnostic tests are necessary. It might just be a matter of changing to special dog food for skin allergies or getting an anti itch dog shampoo. Treating them is important for your dog's health. Cats can also have skin problems, but not as often as dogs do.
Once your vet has ruled out any serious problems, here are some of the things you can do to help alleviate their itchy skin:

Check the food they're eating. If you use commercial food, try to get a premium brand nutritionally balanced and give them a supplement of Omega-3 fatty acids. There are special supplements for dogs and cats, but you can give them the same fish oil you take. One 1000 mg. capsule once a day is enough. Use only half for small dogs and cats. If you are not comfortable giving such a large capsule especially to your dog, just puncture one end and mix it with some of his food. Do the same for small dogs and cats. If the taste or the smell is too much for them, you can always use some olive oil to coat their food.
Give them a bath, or at least, give the dog a bath. But make sure the water is not warm or hot. Cool water will give him some relief, but hot water will just make it worse. Use an oatmeal shampoo or one specially formulated for dry skin in dogs or cats. Also use a moisturizing rinse afterwards. Your vet might have given you a specific shampoo or conditioner to reduce any bacteria on the skin. When you're done, pat him dry with a towel, don't rub since this would just further irritate the skin. You can then use a skin tonic with herbal extracts to sooth the itch afterwards.
Treat them with oatmeal. Mix oatmeal and water, apply the paste to the irritated area and cover it with a warm towel to sooth the itch. If possible, try to keep your dog or cat calm for a little while for the soothing effect to work and repeat the process every day until there's improvement.
You can also apply a few drops of vitamin E on the spot for relief. And remember to brush them frequently, since this releases the natural oils in the skin. But try to do it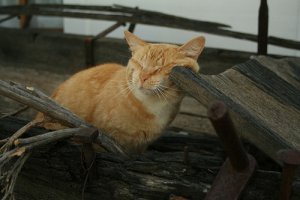 very softly while the irritation still exists or avoid it altogether until it heals.
Remember that you should always consult your vet before deciding on a natural remedy as a skin and coat treatment.
Some last tips:
If your vet determined that it's an allergy, he might have prescribed antihistamines to control it, but make sure to watch your pet's reaction. Some pets might get over excited, and others might get drowsy. This should help you decide whether to give it in the morning or late at night.
If the vet prescribed antibiotics to control a skin infection caused by so much scratching, make sure you give him the whole treatment and don't miss any doses. An infection that is not well treated can be fatal.
Avoid fleas at all costs! Flea control is essential for your dog's health and well being, and they can be a cause for the irritation that causes the scratching. If your cat is allowed to go outside, make sure you treat him too. There are many treatments to prevent and keep away fleas and ticks. Make sure you talk to your vet about it.